Marshall is no stranger to the stompbox stage. In the '60s, the Bletchley boys introduced the SupaFuzz and Supa-Wah pedals, while the late '80s and early '90s saw the introduction of a variety of distortion boxes. Fast-forward to the year 2000: Marshall's new made-in-India stompers are smaller, more tonally versatile, and housed in bulletproof enclosures. Each of these bad boys offers true-bypass switching, a status LED, and 9-volt DC jacks. We tested eachpedal through a Vox AC30, a Fender Deluxe Reverb, and a mid-'70s, 50-watt Marshall head.
BB-2 Bluesbreaker II
The word "Bluesbreaker" evokes images of young Eric Clapton ferocious tone on the seminal 1966 John Mayall album. Needless to say, the BB-2 ($135) has a tall order to fill. The box offers boost and blues modes (the former function was not on the original, early-'90s Bluesbreaker pedal), and the controls are drive, tone, and volume. In boost mode, all controls are bypassed (except for volume) and the output is frightening. The BB-2 easily drove the front-end of our test amps into a frenzy–it delivers one of the most ass-kicking boosts I've ever heard.
In the blues mode, the BB-2 gravitates toward (not surprisingly) the classic Bluesbreaker sound. Running it through a Marshall and a 4×12 cab, I achieved a glorious timbre reminiscent of Clapton's white-hot tone on "Hideaway" or "Double Crossing Time"–dynamic, fat, and laden with midrange nuances. The BB-2 is an astounding overdrive pedal that provides soulful, no-non-sense boost and smooth, old-school distortion.
ED-1 Compressor
The ED-1 ($135) is one of the more versatile and quiet stompbox compressors I've heard. It features volume, attack, and compression controls, plus a 2-position emphasis function that is quite unique. In the high position, it tightens up bass frequencies while retaining high-end slice–extremely handy if you're playing atmospheric chords over the top of a rhythm section a la Andy Summers. In the low position, it squashes the treble, and lets the bass frequencies pass untouched.
Perhaps the hippest thing about the ED-1, however, is its ability to act as a booster with very slight compression that doesn't affect your tone one bit. Pretty cool. Compared to an MXR Dyna Comp (the benchmark of stompbox compressors), the ED-1 not only held its own sonically, but proved to be more flexible–thanks to its ability to conjure different shades of compression and boost.
GV-2 Guv'Nor Plus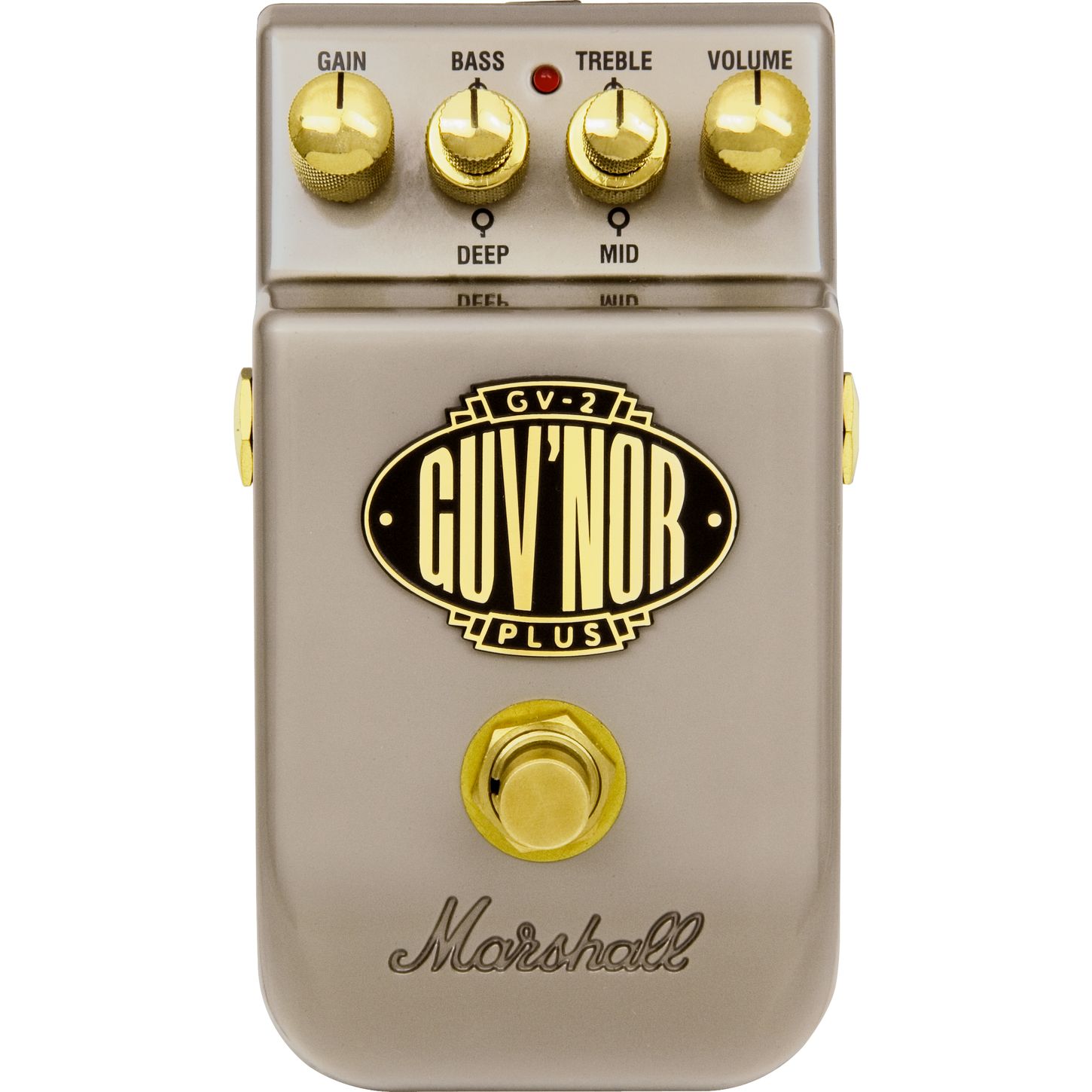 If you're looking for best bass distortion pedal that packs mondo output and molten-lava distortion, you'll love the GV-2 ($135). Sporting bass, treble, volume, and gain controls (plus concentric knobs for the deep and midrange functions), the GV-2 produced girthy rage through a Vox AC30 and a Deluxe Reverb. Through a Marshall, the unit makes good on its campaign promises by delivering punishing low-end and gobs of gain. (Think Tony Iommi on steroids.) The pedal responds nicely to guitar-volume tweaks, and cleans up well even on mondo-distorto settings. The deep control is an added bonus that's very effective for beefing up the chunk factor of open-back combos.
JH-1 Jackhammer
The JH-1 ($145) is a high-output distortion/overdrive that features concentric treble, bass, volume, gain, contour, and frequency controls. Turning the contour knob counter-clockwise cuts low mids and bass. Turning it clockwise attenuates the upper mids and treble. The EQ allowed me to dial in sucked-midrange punishment or belligerent honk with any guitar. The overdrive mode can pulverize pavement with throaty, aggressive tones that pack the punch and immediacy of a Marshall JCM 800. In the distortion mode, the gain is spread on ultrathick, and the JH-1's voice becomes darker and smoother. This is a mean-sounding, yet musical box.
SV-1 Supervibe
The SV-1 stereo chorus ($145) delivers lush textures via its speed, depth, wave, and filter controls. A variable-wave function lets you morph between fixed and variable speed LFOs, and change the character of the modulation from that of a vintage analog chorus to a more crystalline digital type. The filter control adjusts the bandwidth of the chorus effect, enabling you to dial in bright chorusing textures, or subtle, smokier effects.
Routing the unit's left/right outputs to two amps and dialing the filter control for darker sounds produces a sweet, yet complex stereo swirl without a hint of the gaudy, pseudo-Leslie tones delivered by some other chorus units.
VT-1 Vibrotrem
The stereo VT-1 ($145) sports tremolo and vibrato modes. Controls include speed, depth, and shape (square and triangle wave). At extreme settings, the square wave flaunts an aggressive chop, while the triangle wave sounds somewhat softer. Although the VT-1 doesn't go as slow and deep as a Fender trem, its helicopter capabilities are more extreme than most amp tremolos.
The VT-1's vibrato mode offers trippier tones–you can conjure everything from subtle, detuned tipples to seasick warbles. Vibrato is usually used as a "freak-out" effect, but the VT-1's vibrato mode can also be used discreetly. For example, placing a detuned guitar in the back of a mix can fatten up a track considerably. If you're looking for a unit that nails two classic vintage effects while letting you craft your own signature tones, the VT-1 definitely delivers.